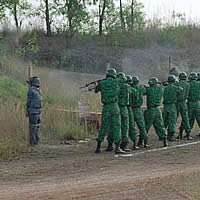 The
School & Church Massacre
was a mass execution of 450 civilians in a Crimean village in Ukraine. The Crimean villagers were suspected of informing Allied forces of Russian activity in Crimea. The Russian soldiers came from the nearby harbor when they were ordered to round up villagers. After digging their own graves, the Crimeans were killed and buried in mass burials. The Massacre happened on March 1, 2022. This event triggered early alarms in the Allied chain of command. The Massacre would later be put into consideration during the early months of
Operation Anarchy
.
Massacre minus 100 days
Edit
In August 2021, Russian soldiers appeared in a small village 12 miles north north west of the Crimean town of Eupatoria. The Russians were quickly quartered by residents in the village; being feed and clothed by civilians. The region was for many Russian soldiers a location for rest and relaxation. Many soldiers did next to nothing with concern to military activity. But Coronel Yuri Antonov saw the village as a defensive position against a potential amphibious assault. Anti aircraft artillery and cannons are positioned nearby.
Ad blocker interference detected!
Wikia is a free-to-use site that makes money from advertising. We have a modified experience for viewers using ad blockers

Wikia is not accessible if you've made further modifications. Remove the custom ad blocker rule(s) and the page will load as expected.